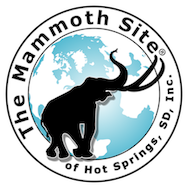 The Mammoth Site has been taking strides to become a world-renown education and research institution and offers a wide variety of projects and programs.
The Mammoth Site is the perfect place for field trips and offers a variety of classes such as PreK-K: Mammoths, Mammoths, Mammoths, 1st Grade: Fossils, 2nd Grade: Animal Tracks, 3rd Grade: Erosion 4th Grade: Entrapment, 5th Grade: Archaeology, 6th-12th: Odontology- Let's Study Teeth!
Mammoth-In-A-Trunk Kits
Traveling educational kits for grades K-12 are available for loan from the activity list on the previous page. Most supplies are included for a class of 25 students, along with posters, a teacher's edition, and related resources material. A refundable deposit and return shipping are required.
The best part of all this is that the kit is free – the kits are part of our education program. All you have to do is provide a check for the value of the kit ($500), or a credit card number to put on file and we'll send one right out. Once the kit comes back (you pay postage), we tear up the check or shred the credit card number.
Please call 605-745-6017 for more information, to order a kit, or to reserve a kit for a future date.